Samsara Irish Wolfhounds is jointly operated by Drs. Christiana C. Hartenstein and Nina Spadte. We are located in rural Batavia, OH and currently share our home and acreage of 8 fully fenced acres with 7 wolfhounds. We don't have a kennel establishment as it is detrimental to the soul and spirit of these hounds.
Christiana has been involved in the breed since 1998 when she purchased her first wolfhound while still living in Germany. She started out as handler for several large, famous kennels in Europe and moved to the United States in 2003. Here, she raised Irish Wolfhounds under a different kennel name for a decade, producing numerous American and Canadian Champions, including multiple Specialty Winners. In 2019, she received her AKC judging license. By training, she is a psychologist working as a consultant and coach. She also maintains her own private practice for psychological services.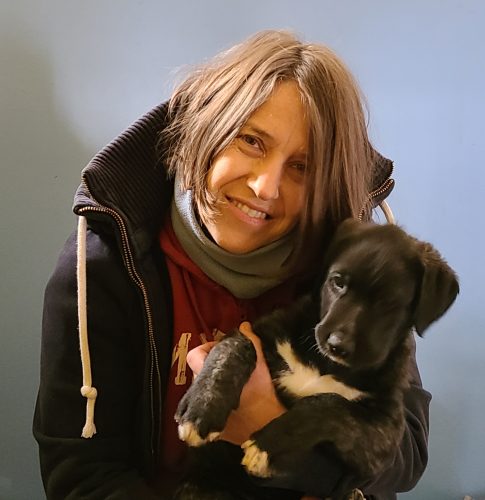 Nina fell in love with the breed in 2018 and joined the operation the same year. Being an inquisitive student, she has since brought a fresh set of eyes to the kennel, questioning the development of the breed, pointing out emerging trends, evaluating breeding stock, and making breeding decisions. By training, she is a retired cardiac surgeon. She is very interested in a holistic approach to animal husbandry and contributes greatly to the health of our hounds due to her medical background.
This combination of expertise and a new way of looking at the breed as a whole make Samsara Kennels unique.