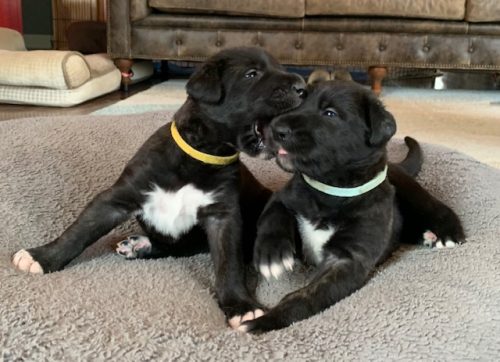 The way we live with our hounds automatically limits the number of litters we produce. Plus, we always want to keep at least one puppy. Hence, we breed every other year at the most and think carefully about the pro's and con's of each combination. Our puppies come from parents who are deemed healthy as evidenced by appropriate test results for the health issues recommended by the IWCA. Puppies we don't plan on keeping will be placed into thoroughly screened homes as companions. We have a waiting list and interested families are required to visit us and the hounds if wanting to reserve a puppy.
Puppies are born in our home and move every week into a different section of the house to meet their developmental needs. Depending on the weather, they begin to have outdoor time in their own puppy playground at around 4 weeks to explore their world.
Prior to placement at around 10 weeks, our puppies are tested for liver shunt. They are appropriately vaccinated and dewormed for age, microchipped, and well socialized. We expect our puppy buyers to continue the socialization process at home, especially when the puppy moves into an environment that is very different from ours (city living, farm living with livestock etc.) All puppies come with a puppy package which consists of pedigree, health testing of parents, liver shunt result, health records w/ vaccinations and deworming, microchip information, registration application, feeding and exercise instructions, and general breed information.
We are available 24/7/365 for our puppy buyers after purchase to provide guidance, answer questions, make recommendations, and share the good and the bad that comes with living with an Irish Wolfhound.
Our next litter is hoped for in 2022. Serious inquiries are always welcome. Please complete the puppy questionnaire on our website or send an email.