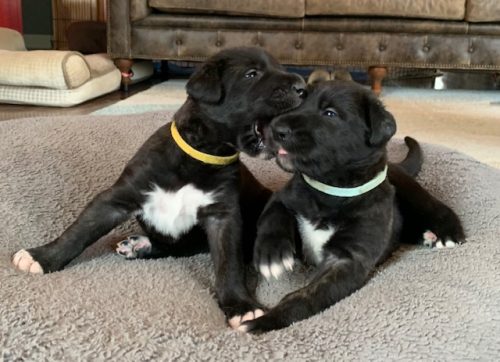 The way we live with our hounds automatically limits the number of litters we produce. Plus, we always want to keep at least one puppy for ourselves. Hence, we plan about one litter per year and think carefully about the Pro's and Con's of each combination. Our puppies come from parents who are deemed healthy as evidenced by appropriate test results for the health issues recommended by the Irish Wolfhound Club of America (IWCA).
Puppies are born in our home and move every week into a different section of the house to meet their developmental needs. Depending on the weather, they begin to have outdoor time on their own puppy playground at around 4 weeks to explore their world.
Prior to placement at around 10 weeks, our puppies are tested for liver shunt. They are appropriately vaccinated and dewormed for age, microchipped, and well socialized. All puppies came with a puppy package consisting of pedigree, liver shunt documentation, health records w/ vaccinations and deworming, microchip information, registration application, and feeding and exercise instructions.
We are available 24/7/365 for our puppy buyers after purchase to provide guidance, answer questions, make recommendations, and share the good and the bad that comes with living with an Irish Wolfhound.
Our next litter is hoped for in 2023. Serious inquiries from individuals and families who love the breed as much as we do and are able to meet its needs (securely fenced yard of appropriate size, i.e. no electric/underground fence, plenty of time to meaningfully interact with the hound, and sufficient financial resources for supplies, including food and vet care, are always welcome. We will not place a hound, whether puppy, yearling, or adult into a home without a visibly fenced yard (minimum 4 feet). Further, we will not place any wolfhound sight unseen. If genuinely interested in a hound from our kennel, please plan on a visit.
To contact us, please complete the puppy questionnaire on our website, or send an email.  
On a different note: Occasionally, we have a senior puppy, yearling, and/or young adult available for the right home, either as a show potential in co-ownership, or as a companion. Such a hound is NOT a "leftover," "a runt," or "someone to get rid off." In fact, he/she was retained as a show potential and hence, received expert care throughout his/her life thus far. Purchasing a youngster like this is often an excellent choice for individuals or families who are uncertain about their ability to raise a giant breed puppy to their full potential, or who simply don't have the time and energy for raising a baby puppy. Raising a wolfhound puppy from 10 weeks on is not for the faint-hearted; it takes a lot of time, money, commitment – plus a great sense of humor – to get him/her through the first year without any major issues. Our senior puppies, yearlings and young adults come well raised, wonderfully socialized, health tested, with impeccable temperaments and excellent manners. They are ready for new adventures with the right people, offering an active lifestyle, suitable outdoor space, and lots of love to continue on the journey we started.